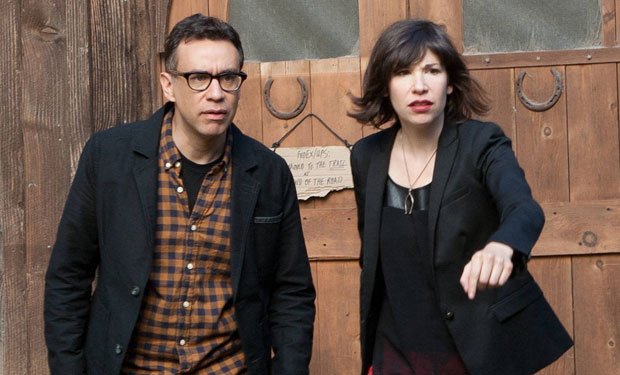 Fred Armisen and Carrie Brownstein return with their wonderfully unique rendering of Portland, OR. This season, they'll be joined by a slew of notable new guest stars including Chloë Sevigny as Fred and Carrie's new roommate, and returning favorites such as Kyle MacLachlan as Portland's lovable Mayor.
Fans will also get an all-new pre-season bonus episode titled "Winter in Portlandia" airing Friday, December 14, 2012 at 10:30pm ET/PT, which will also be available on IFC.com, the Portlandia Facebook page and iTunes the next day. In this additional episode, Fred and Carrie reveal a Portlandia season fans have never seen before… wintertime. Bohemian couple Peter and Nance struggle to keep off winter weight, Candace's son visits the feminist bookstore during the holidays and artisan curators Bryce and Lisa offer a winter vacation at their newly opened Outlet Hotel.
Shot entirely on location in Portland, OR, Portlandia is co-created and co-written by Fred Armisen, Carrie Brownstein and Jonathan Krisel, who is also the series director. Portlandia is executive produced by Lorne Michaels and produced by Broadway Video.
http://www.keepportlandweird.com/file/2013/06/portlandia-blog-post.jpg
375
620
Keep Portland Weird
http://www.keepportlandweird.com/file/2017/06/logo.png
Keep Portland Weird
2013-06-26 21:33:28
2013-06-26 21:41:20
Portlandia